Teaching and Learning should be fun.
If it isn't, you're doing it wrong.
BrainBuffet started as the classroom website for Rob Schwartz back in 1998.  Originally it was simply a collection of webpages built on Netscape Composer and set as an active desktop on classroom PC's for students to access the resources for projects.  Things finally got online and worthy of visiting around 2001 when Rob tweaked the site to win the Broward County CyberTeacher of the Year award.
Soon after, Rob began working on Macromedia products and became a Macromedia Education Leader (MEL). When Adobe purchased Macromedia, the MEL's became AEL's (Adobe Education Leaders) and Rob began to focus specifically on design and creative software.
When the Adobe Certified Associate (ACA) certification was started, Rob was the Top Certifying Academic Center in 2009 and 2010, and was the Top Certifying Center in 2010 & 2011.  Adobe recognized this and presented Rob with the Impact Award that same year. Rob started creating content for Dade and Broward counties to help their programs achieve similar successes, which eventually became ACATestprep.com.
In 2016 Rob reluctantly left his lab to support other classrooms full-time with Brainbuffet. We soon became the best selling and most successful certification curriculum for the ACA, and partnering with Adobe to support Statewide Rollouts of Creative Cloud like the Create Idaho project.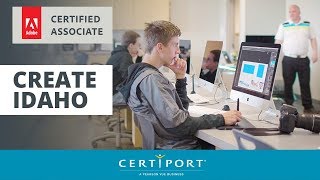 BrainBuffet is the Curriculum Provider for the Create Idaho Project.